FAQ's
Based on commonly asked questions, find our FAQs below.
How can I contact you?
You can contact us via our email address - James@thebiggerball.com
Or alternatively, fill out the contact form on our contact page.
What size are our tees?
The size of our tees are the overall length of the golf tee. On our castle golf tees, the spike is always 20mm in length. In order to get the height that the ball would be off of the ground, subtract the length of the spike (20mm) from the overall length.
As an example, our pink tees are 59mm in total length, with the spike being 20mm on each tee. So as a guide, our pink tees are 39mm, (the equivalent to standard plastic sizes).

Is Bamboo stronger than wood?
Yes - bamboo is a grass, it is a longer grain and is also more flexible than other materials used for golf tees.
Where do plastic tees go?
Plastic tees are often lost or broken during golf matches. Once lost, these plastic tees can take years to decompose and are extremely bad for the environment.
How do bamboo tees compare to plastic ones?
Bamboo tees are more flexible, sturdier, safer (particularly for lawn mowers) and of course, they are the sustainable option. 
How can I make changes to my order?
Our delivery cut off is 4pm - if your order is placed before this time you can email us at James@thebiggerball.com to amend your order. Please note: we can not guarantee changes to your order once it's locked in.
How much are your delivery costs?
We offer FREE UK Delivery across all of our products. If you are a customer purchasing from overseas, please contact us at James@thebiggerball.com.
How long should my delivery take?
We aim to ship all orders within 24 hours of receipt.
We ship all of our products in the UK using Royal Mail and expect 3-5 working days as standard.
Please be aware that due to ongoing issues at Royal Mail, you may experience certain delays with your order. For more information on delivery in your area, please visit the royal mail website.
For orders overseas:
Shipping and duty will be applied at checkout for all orders.
How can I become a member / sign up?
Please visit our signup form or click here for updates new products and offers
How do I select the right delivery method?
We currently only offer one deliver method, which is via Royal Mail 2nd class and it is free of charge (UK).
How can I pay for my purchase?
Apple / Android pay, Credit / Debit Card & PayPal.
Is it possible to track my order?
Unfortunately, not currently. But this is something we are looking to add to our service in the future.
How can I cancel my order?
Please get in touch with us via james@thebiggerball.com
What is your returns policy? 
For any returns queries please get in touch with James@thebiggerball.com
How can I return products?
Please get in touch with James@thebiggerball.com
How can I get VAT exemption?
We are a UK-based company and therefore VAT is required on all items.
How can I redeem vouchers/coupons?
Enter your promotional code at the checkout.
How can I redeem offers and promotions?
By entering a specific discount code or item at checkout.
What are the custom charges, duties or taxes in your country?
For more information on charges and duties in your country or region, please visit the royal mail website.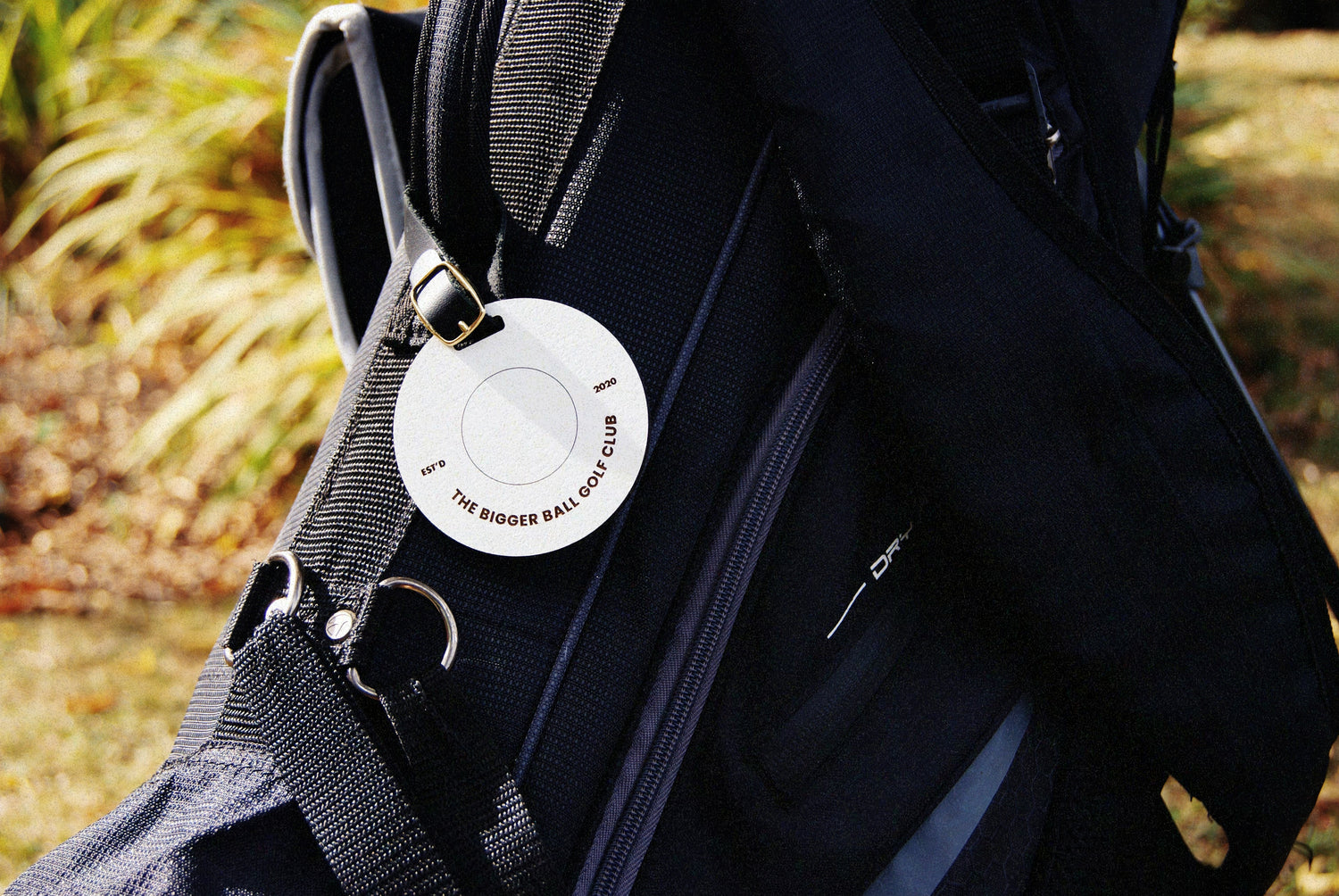 Partner with us...
We partner with golf clubs, golf societies, golf travel and golf event organisers across the UK to help them minimise their use of plastic and introduce more sustainable alternatives for the benefit of their members, visitors, staff and customers. Get in touch and ask about our range, including...
1. Bag Tags- wooden and metal
2. Ball Markers & Divot Repair Tools
3. Bamboo Golf Tees
4. Bamboo Golf Towels and Clean Strike
5. Water Bottle Refill Stations
6. Drawstring Bags
7. Gift Packs
8. Scorecard Holders
9 Flagpole Flags
10. On-course Signage & Furniture
11. Printed Literature/ Menus etc
12. Promotional Signage & pull up banners
13. Scorecards and Course Guides
14. Umbrellas
15. Water Bottles
16. Bag Tag Year Labels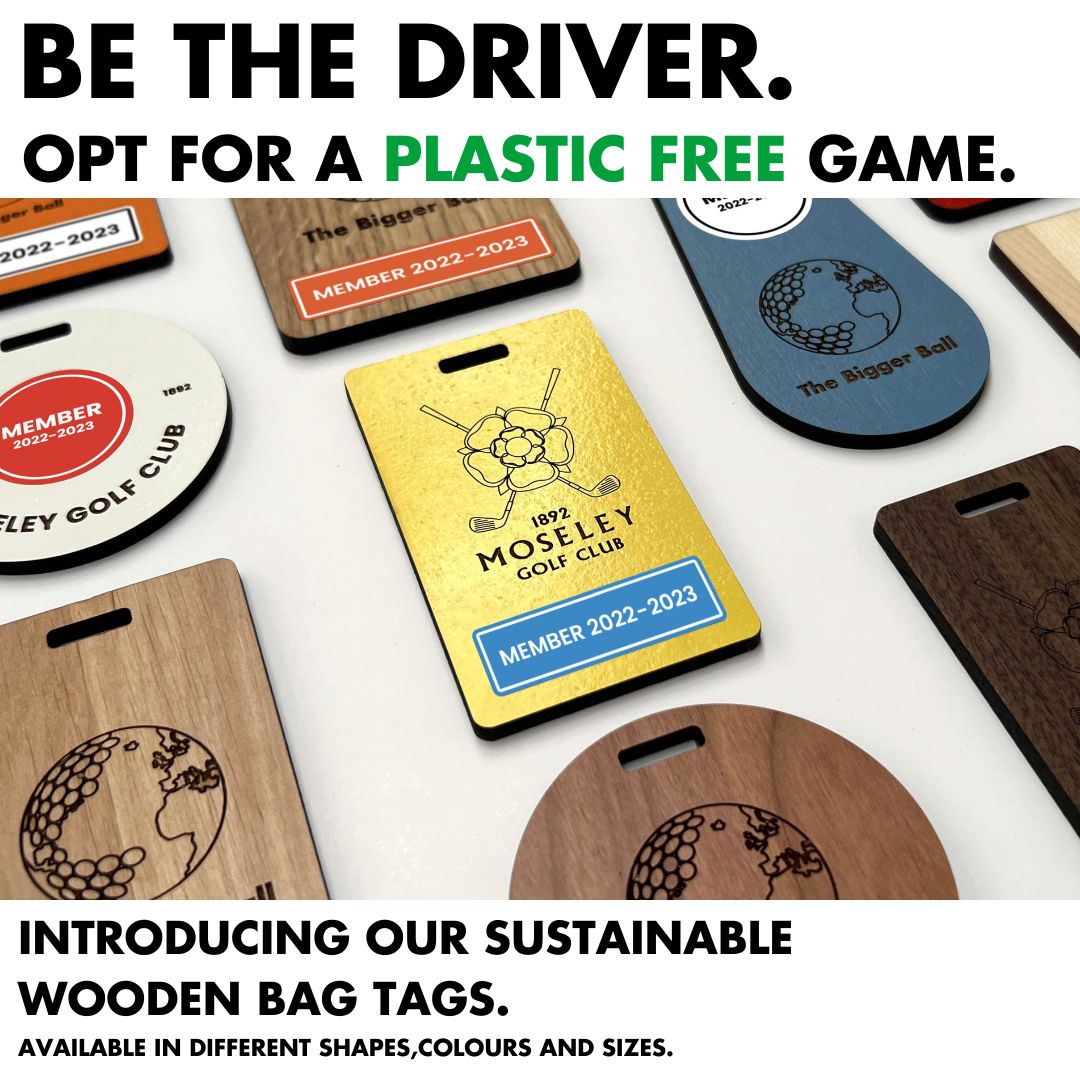 Got an event?
From just 36 pieces we can create custom bag tags.
Let customers speak for us
Our Products
Regular price
From £4.99 GBP
Regular price
Sale price
From £4.99 GBP
Unit price
per